Superbet
Igre -

8/10

Bonus -

9.5/10

Uplata i isplata -

9.5/10

Mobilna verzija -

9/10

Korisnički servis -

8/10
Superbet je osnovan u Rumuniji 2008. godine, sa prevashodnom opredeljenošću ka klađenju i sa uspesima postignutim u tom domenu. Ubrzo su se proširili širom zemlje, ali im je poslovanje dobilo i internacionalni karakter, jer posluju u još devet stranih zemalja, a to je najizraženije u Belgiji i Poljskoj. Od ove godine su prisutni i u Srbiji, sa svojom onlajn kladionicom i Superbet Kazinom. Superbet Kazino je zauzeo mesto 4Bet Kazina i poseduje dozvolu nadležnog Ministarstva finansija Republike Srbije za poslovnje u onlajn svetu igara na sreću na njenom području. Svoje poslovanje u velikoj meri temelje i na razvoju sopstvene inovativne tehnologije, u svojim razvojnim centrima koje poseduju u Londonu, Bukureštu i Zagrebu.
Iako je zvanično "prebivalište" ovog kazina na Novom Beogradu i još uvek su pod patronatom firme ACT 4 BET d.o.o, sajt izgleda potpuno drugačije i u potpuno novom je ruhu, ali nijeje vidljiv i napredak kada je reč o Superbet Kazinu. Iako su prebačeni svi nalozi i sredstva igrača sa starog sajta na Superbet, važno je napomenuti, ukoliko neko još uvek ne zna, da je prilikom prve posete Superbetu neophodno pokrenuti opciju za zaboravljenu lozinku i potom navesti novu šifru koju želite da koristite na svom nalogu.
Pored domaće licence za poslovanje u Srbiji, pohvalili su se i nekim inostranim nagradama i članstvom u međunarodnim organizacijama, doduše odnose se na klađenje. Deo su Međunarodnog udruženja za integritet klađenja (IBIA), dok je equity fond "Blackstone Inc", jedan od najvećih i najpoznatijih u tom domenu, svojevremeno u ovaj brend uložio 175 miliona evra. Central and Eastern European Gaming Conference (CEEGC) ih je proglasio najboljim operaterom sportskog klađenja u Evropi. No, da vidimo gde je Superbet Kazino u poređenju sa konkurencijom i u odnosu na standard koji vlada u našoj zemlji.
Superbet Kazino vebsajt
Ulaskom na sajt Superbet-a odmah će vam biti jasno da je njihova glavna preokupacija sportsko klađenje, jer vas prvo zatiče ponuda iz tog domena, koja je ujedno početna strana sajta. Međutim jasno ćete u glavnom meniju uočiti prečice za Superbet Kazino, odnosno Slot – koji u ovom slučaju označava doslovno slot formu igara, jer ostale ne postoje – i Igre Uživo – koja će vas odvesti do Superbet Kazina uživo, odnosno skromnih 11 igara koje su dodali kako bi koliko-toliko zadovoljili i ovaj segment.
Ulaskom na Slot sačekaće vas lista ilustrovanih kazino igara, koje će odmah biti podeljene na one najpopularnije i najnovije, dok će ispod biti navedene i igre uživo, iako za to postoji i posebna prečica. One su zapravo deo sveukupnog menija Superbet Kazina koji se nalazi sa leve strane, i uključuje samo slot igre i igre uživo. To u ovom slučaju neće ni predstavljati veliki problem prilikom pretrage, zbog malog broja ponuđenih igara.
Tek ispod igara uživo je lista slot igara klasifikovanih prema provajderima, i na kraju mogućnost da vam budu prikazane sve igre, ali takvih prečica nema u samom meniju koji je pomenut i nalazi se sa leve strane. Superbet Kazino igre uživo nisu posebno klasifikovane, što bi bilo i bizarno s obzirom na samo simbolično prisustvo od 11 igara.
Sajt je procesom ribrendinga dobio sasvim originalno ruho za naše podneblje i predstavlja osveženje. Sada sajtom dominira crvena boja, koja je definitivno obeležje sajta, uz belu, dok sam prostor ne odaje utisak nabacanosti i deluje da je lako snaći se. Čini se da je tako nešto neophodno kako bi jedan onlajn kazino bio vidljiviji usled rastuće konkurencije.
Superbet Kazino igre
Superbet Kazino nema mnogo čime da se pohvali i to je jasno u startu. Njihovom ponudom – na prvi pogled – mogu da se zadovolje eventualno slot igrači, međutim ona je u opadanju, pošto sadašnjih 323 igre gotovo da predstavljaju prepolovljen broj u odnosu na početak poslovanja, kada ih je bilo 611. Umesto toga, kreiran je Superbet Kazino uživo, ali sa više nego skromnim izborom, pa oni koji preferiraju igru iz svom doma koja se u realnom vremenu emituje iz kazina, uz učešće pravog dilera, ovde svakako nemaju razloga da se registruju, jer ima mnogo boljih mogućnosti za to.
Ono što je doduše prednost jeste mogućnost igranja demo, odnosno probne verzije svake igre, čak i pre nego što se registrujete, pa tako možete detaljno ispitati šta bi ovde moglo da vam odgovara, kada uzmete u obzir neku svoju omiljenu igru i eventualne bonuse koji se nude. Nisu međutim navedeni minmalni i maksimalni mogući iznosi uloga za igre. Iznad liste igara nalazi se i slovna pretraga, kako ne biste gubili vreme ukoliko ste došli na sajt sa konkretnom željom na kojoj igri želite da pokušate da ostvarite zaradu.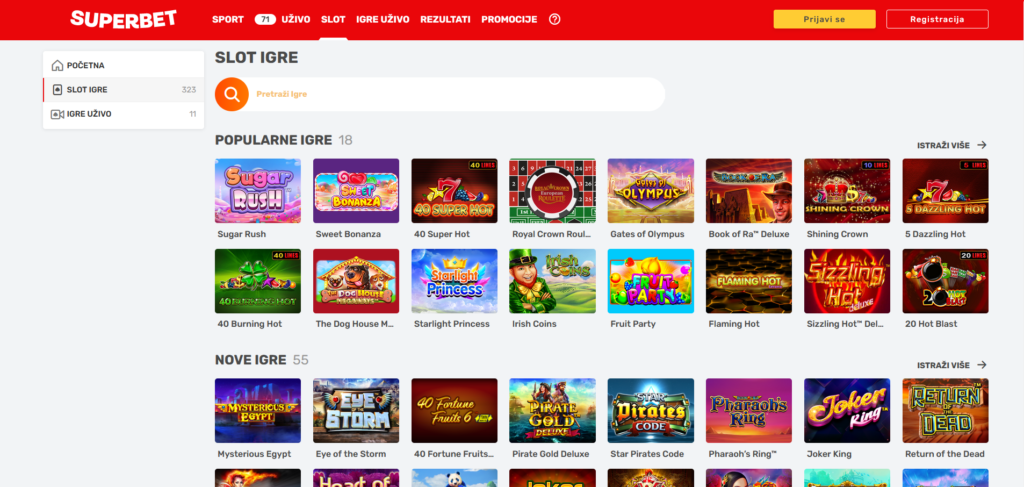 Superbet Kazino Slot
Iako broj slot igara nije na prvi pogled loš, standardna situacija kod domaćih priređivača je da je ovakva forma igara najdominantnija, a jasno je da je ponuda Superbet Kazina u poređenju sa konkurencijom izuzetno loša. Međutim, broj igara na sajtu je dovoljan za solidnu tematsku razuđenost, ali naravno koja ne može biti na nivou nekih drugih sajtova. U promo odeljku sajta nalazi se i obaveštenje da svakog četvrtka igrači dobijaju novu igru, ali to nije baš naročito vidljivo.
Ono što uočavamo detaljnijom pretragom jeste da su među slot igrama svrstane i neke od igara za stolom koje nisu predviđene za igranje uživo, kojih jasno nema puno, ali u svakom slučaju je minus i to što nije kreirana posebna kategorija za takve igre, pa neki igrači mogu biti navedeni na potpuno pogrešan trag. Zapravo, neće moći da pronađu takav trag. Takve igre su recimo Baccarat, Dragon Tiger, Royal Crown Roulette i 4 Of a Kind Bonus Poker. Dakle vidimo prisustvo pokera, bakarata i ruleta, ali u najmanjoj mogućoj meri.
Kad je o samom slotu reč, može se naići na igre sa književnom, istorijskom, mitološkom, životinjskom tematikom, ili pak na klasičnije igre, poput voćkica. Neke od igara koje nudi Superbet Kazino su i Aztec Treasure, Bigger Bass Bonanza, Gates of Olympus, Blue Heart, Brave Cat, Eye of the Storm, 20 Hot Blast, 20 Joker Reels, 100 Super Hot, 20 Dazzling Hot, 20 Diamonds, 5 Lions, 7 Monkeys, Action Money, The Dog House Megaways, Columbus Deluxe, Egypt Sky, Fairytale Fortune, Book of Ra Magic, Book of Ra, Book of Maya, Apollo God of the Sun, Sugar Rush, Sweet Bonanza, 40 Super Hot, Irish Coins, 40 Burning Hot, Flaming Hot, 20 Hot Blast, Frut Party, Joker Action 6….
Superbet Kazino Uživo
Već smo registrovali da je Superbet u međuvremenu, od svog pokretanja u Srbiji, pridodao i kazino uživo igre, ali da je to učinjeno tek simbolično, uz prisustvo tek 11 ovakvih igara. Zanimljivo da je među njima najviše tzv. kviz ili "show" igara. Igre koje su u ponudi Superbet Kazina uživo su Mega Roulette, PowerUp Roulette, Sweet Bonanza CandyLand, ONE Blackjack, Mega Sic Bo, Mega Wheel, Fortune 6 Baccarat, Super 8 Baccarat, Dragon Tiger, Boom City i Andar Bahar.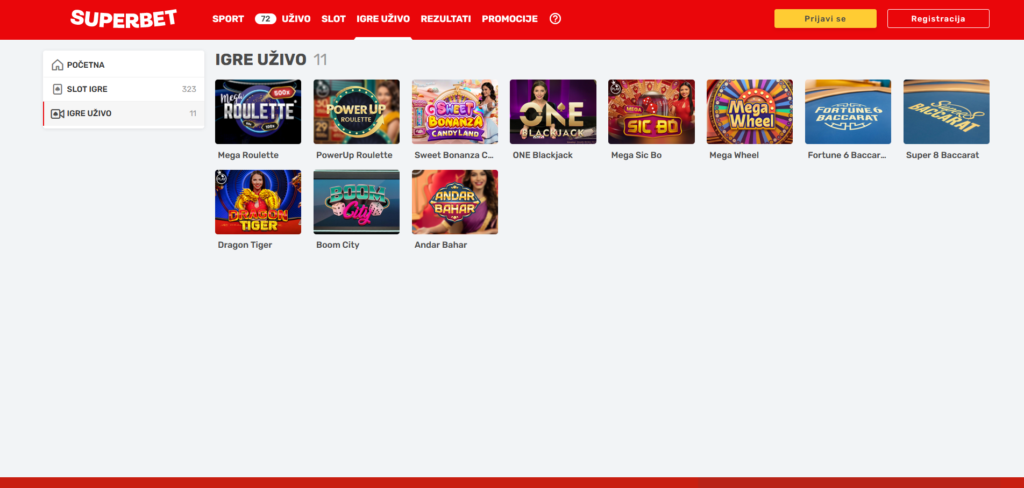 Provajderi
Superbet Kazino na sajtu navodi samo tri provajdera sa kojima sarađuje. U pitanju su Greentube, čijih je 37 igara na sajtu, Drop & Wins je prisutan sa 25, a Megaways u ponudi na ovom sajtu ima tek devet igara. Jasno je ipak da to nije sve, a ranije je bio istaknut Pragmatic Play, čijih je igara bilo i ubedljivo najviše, pa je nejasno zašto postoji ovakva manjkavost. Ostaje da vidimo da li će vremenom, kada se budu, i ako se budu ustalili, proširiti mrežu saradnika na ovaj način i samim tim uvećati i broj igara.
Superbet Kazino Bonusi i promocije
I kada se sagleda ponuda bonusa jasno je zašto je klađenje primarna delatnost ovog priređivača igara na sreću, ali su prisutni i bonusi i promocije za kazino.
Igračima se daje bonus dobrodošlice, koji ima neka ograničenja. Važi isključivo za nove igrače Superbet Kazina, i to samo za prvi depozit, koji pritom mora biti minimalno 500 dinara. Kada je reč o slotu, ovakav bonus igračima donosi 100% na prvi uloženi depozit, s tim da iznos maksimalno može biti 40.000 dinara. Uz to je uvek tu i dnevni bonus, kojim je moguće doći svakodnevno do 200 free spinova igrajući Pragmatic-ove igre.
U saradnji sa Amusnet provajderom organizovana je mogućnost aktiviranja "misterioznog" jackpot card-a, a i na ovom mestu je naizostavan Drop & WIns-ov višemesečni turnir, na kom je mesečni nagradni fond 2 miliona evra. Zanimljiva je i mogućnost kupovine bonusa, koja može zvučati kontradiktorno, ali eventualno i otvoriti nove mogućnosti za najzagriženije igrače.
Ono što je mana svakako jeste nepostojanje neke od formi kešbek bonusa, posebno u situaciji kada je ponuđen za klađenje.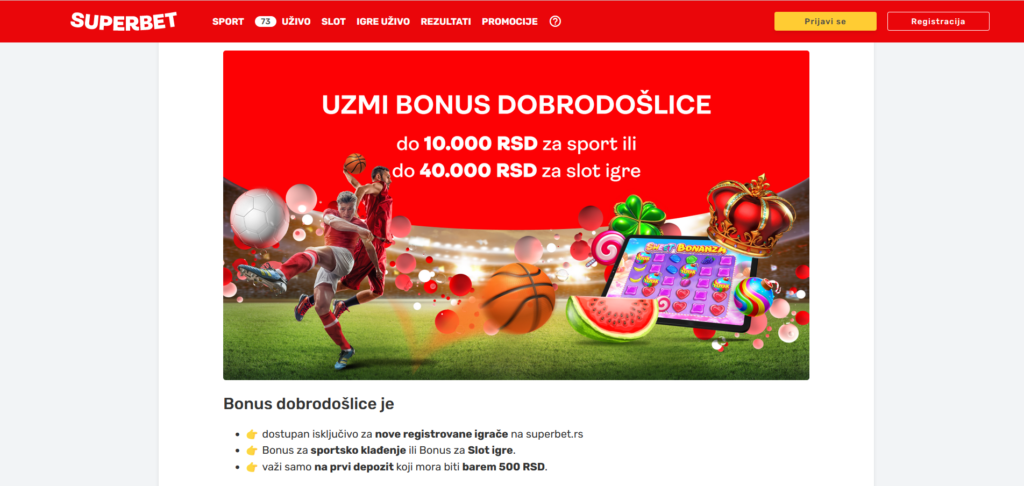 Uplata depozita i isplata dobitka
Mogućnosti za uplatu depozita kod Superbet Kazina nisu naročite, ali pokrivaju sve najustaljenije metode, koje gotovo da svaki onlajn kazino pruža. To su uplate na račun u banci ili pošti, gde je maksimalni mogući ulog 1.000.000 dinara, dok minimalno ograničenje gotovo da ne postoji – odnosno iznosi samo jedan dinar. Pritom, moguće je da ćete od trenutka uplate morati da sačekate neko vreme, čak i do 24 sata. To izbegavate ukoliko uplatu izvršite prenosom sa vaše debitne ili kreditne kartice (Dina, Visa, Master) za koju važe isti limiti kada je reč o mogućem iznosu. Čitav proces može postati efikasniji jer je moguće izvršiti uplatu i uz pomoć e-novčanika, ali i upotrebom vaučera. Iako ne postoje poslovnice Superbeta, pobrinuli su se da ne izostane mogunost direktne uplate, što je moguće učiniti na nekoj od PaySoft lokacija.
Ono što je propust ovog kazina jesu mogućnosti kada je isplata dobitka u pitanju, za šta su igrači logično i najviše zainteresovani, jer na kraju krajeva zbog toga i igraju. Za isplatu je nužno čekati minimum 3 dana, a možda čak i celih pet. Jedini način da se izvrši ovaj proces jeste prenos sredstava sa naloga na vaš račun u banci.
Korisnička podrška
U slučaju nekih nejasnoća možete na više načina kontaktirati operatere Superbeta. U zavisnosti od vaših navika i preferencija možete upotrebiti arhaičniji mejl ili Viber broj, ali isključivo pismenim putem, što se nadovezuje na činjenicu da ne postoji ni telefonski kontakt za mogućnost kontaktiranja standardnom telefonskom linijom. Na dnu sajta možete naići i na live chat, koji se pokazao kao prilično efikasan u ovakvim situacijama. Nije međutim jasno da li je korisnička podrška dostupna neprestano, i ukoliko nije, na koji period je ograničena.
Iako je kazino pokrenut skoro, već su navedeni i dobro ilustrovani odgovori na neka od potencijalnih pitanja za koja se mogu javiti nedoumice. Tako se može doći do rešenja i bez kontakta sa operaterom, ukoliko nije dostupan uvek.
Mobilna dostupnost i aplikacija
Ono što je gotovo neverovatno jeste nepostojanje mobilne aplikacije za Superbet Kazino, čak ni za Android sisteme, tako da je otežan pristup sa daljine. To je za sada moguće preko pretraživača koji koristite na mobilnim telefonima i tabletima na mestima sa internet vezom, koja je sve raširenija. U tim situacijama biće vam dostupno većina igara i mogućnosti kao prilikom pristupa sa računara, a ostaje da se vidi da li će nakon ribrendinga biti kreirana i aplikacija. Zanimljivo je da ne postoji najava za tako nešto na sajtu.
Registracija
Možete se registrovati na sajtu Superbeta na gotovo identičan način kao i na ostalim sajtovima koji pružaju usluge onlajn kazina. Proces kreće na opciji "registracija", koja se nalazi u gornjem uglu sa desne strane, a uslov je da se navedu sledeći podaci: ime, prezime, grad, adresa, JMBG broj (važno je naglasiti da je to obavezan uslov), zemlja u kojoj boravite, imejl, korisničko ime i lozinka koju ćete koristiti prilikom poseta sajtu. Tu je i mogućnost štikliranja ukoliko ste politički izloženi, a obavezna je potvrda da ste punoletni. Nužno je i saglasiti se sa politikom privatnosti, za šta je uvek proporučljivo i pročitati je prethodno, što se često ne čini.
Zaključak
Superbet Kazino je među najlošijim onlajn kazinima koji imaju dozvolu za poslovanje u onlajn prostoru Srbije, što je više nego očigledno, pre svega zbog oskudnog izbora igara. Posebno su razočaravajuće i činjenica da ne postoji mobilna aplikacija, kao i veoma oskudne mogućnosti za isplatu dobitka. Jedina eventualna prednost jeste da imaju dobru kladionicu, pa bi onima kojima je to primarno, a vole da tu i tamo odigraju i kazino, moglo poslužiti, kako ne bi tražili druge priređivače. I dalje je moguće očekivati razvoj Superbet Kazina – na to možda ukazuje i najava da se svakog četvrtka pojavljuje nova igra – ali u ovom trenutku je realna ocena na skali od 1-5 – 2+.